Doctoral Position
Molecular Microbiology at the Ludwig-Maximilians-Universität München, Germany
28.06.2021
DOCTORAL POSITION in
Molecular Microbiology at the Ludwig-Maximilians-Universität München, Germany
A position (0.65 E13) for a doctoral researcher is available in the group of Prof. Dr. Kirsten Jung at Ludwig-Maximilians-Universität München, Department of Microbiology.The project focuses on the role of m6A-RNA modification to control phage replication. Working on the topic requires by a combination of microbial, microscopic (single cell microscopy) and molecular biological methods.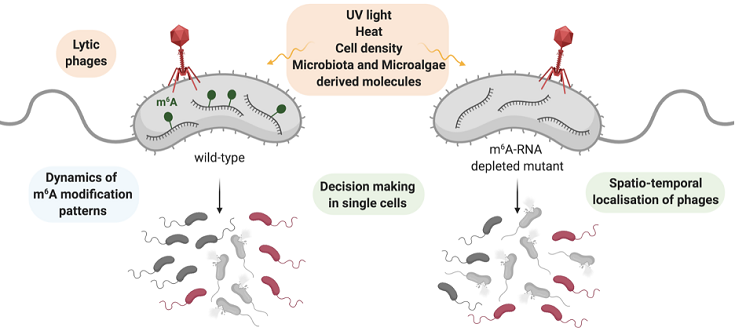 Requirements: The candidate should have an MSc. degree in Molecular Biology or Biochemistry. The candidate should be highly motivated and determined and have a strong interest in RNA biochemistry and the application of interdisciplinary approaches.
Qualifications: Experience and expertise in microbiological and molecular techniques, biochemical methods (protein purification, and protein quality control, e.g., DLS/MALS) as well as in bioinformatics are required. Experiences to work with RNA is desired, but not required.
Duration: 3 years (with the aim of completing the doctorate)
Starting date: August or September 2021
Please send your complete applications in English as a single PDF (CV, motivation statement and research experience, record of study, certificates and contact information of two referees) to Prof. Dr. Kirsten Jung (jung@lmu.de) until June 28th, 2021.
Prof. Dr. Kirsten Jung
Ludwig-Maximilians-Universitaet Muenchen
Mikrobiologie
Großhaderner Str. 2-4
Office E01.024
82152 Martinsried
Phone: + 49 89/2180-74500, -74501
Fax: + 49 89/2180-74520
E-Mail: jung@lmu.de
http://www.mikrobiologie.biologie.uni-muenchen.de/